Safest Apartments in 20904
Apartments in the Safest Neighborhoods of Silver Spring, MD - Zip Code 20904.
Silver Spring, Maryland has all the entertainment and arts you expect to find in a major city, without all of the congestion that goes with city living. Compared with Washington D.C., Silver Spring neighborhoods feel more like the suburbs, with quiet streets and plenty of space. However not all suburbs in Silver Springs are created equal. Continue reading to find the safest areas within the 20904 zip code. Crime rate data comes from neighborhood scout from local law enforcement agencies.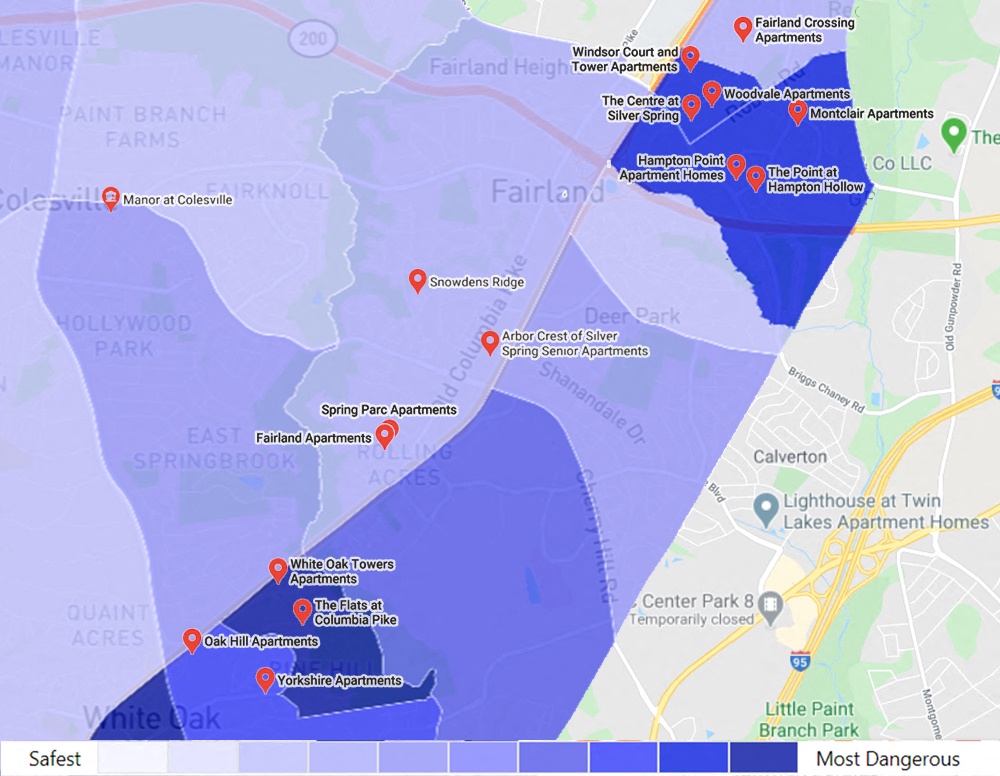 Safest Apartments in 20904
The safest neighborhoods to find apartments are on the northwest side of Columbia Pike, near Fairland and the area just northeast of Fairland Heights. Apartments in these areas include: Arbor Crest Senior Apartments, Fairland Apartments, Snowdens Ridge Apartments and Spring Parc Apartments.
Arbor Crest Senior Apartments is a good choice for those 62 years of age or older. This small, independent-living community boasts 80 apartments with in-unit washer and dryer and a host of community amenities and community activities.
Fairland Apartments boasts a community swimming pool and a soccer field and outdoor basketball court.
Fairland Crossing Apartments offer a host of amenities including an Olympic size pool, enclosed soccer field, dog park and playground. The apartments feature sunken living rooms, cozy breakfast nooks, and a full-size washer and dryer in each home.
Snowdens Ridge Apartments is a small, affordable, subsidized community with a playground, laundry facility and free off street parking.
Spring Parc Apartments feature newly renovated, spacious floor plans with large eat-in kitchen and in-unit washer and dryers. Community amenities include a new fitness center, swimming pool and sundeck, playground, outdoor grill and picnic area and more. We may be a little biased, but we think this is your best choice of apartments in the area;).
Check Pricing & Availability
The next safest neighborhood to find apartments is in the Coleville area.
Manor at Colesville. This is another independent-living community for those 62 years of age or older. This community provides many convenient in-house services including business services, vacation pet feeding, plant watering, household loaner items, restaurant information and reservations, and a complimentary hospitality suite for visiting guests.
The rest of the apartments are found south and southeast of Columbia Pike in the White Oak and Pine Hill area. These include the following apartments:
Oak Hill Apartments
Windsor Court and Tower Apartments