Best Cities to Commute to Washington DC
Best Cities to Commute to Washington DC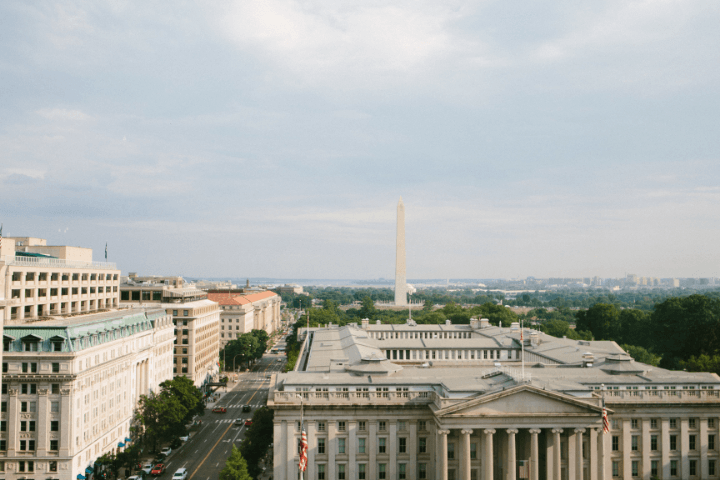 Washington DC is vibrant, diverse and exciting, with an abundance of historical monuments and museums—many of which are free to the public—like the Smithsonian, the Washington Monument and the Lincoln Memorial. You can also access incredible events at prominent think-tanks for free. Speakers and authors from around the world hold events here.
Washington DC is also a cultural melting-pot. Spring is stunning with the tree blossoms and then again in the fall when the leafs change colors. Washington DC is steeped in history and almost everywhere you look you'll see beautiful architecture.

However, it's also expensive. According to Nerdwallet, Washington D.C. ranks in the top ten most expensive city in the country.

Many who work in DC choose to commute from one of the many suburbs in Maryland or Virginia, just outside of DC proper. However, if you are not familiar with the area, choosing the right suburb can feel a little daunting. There are so many places to choose from. Not to worry, we've done the research and we've got our top recommendations.
Shortest Commute to DC
If you want the shortest commute to DC, our recommendation is Arlington.
Using Google Maps we took a look at the average commute time for someone leaving for work at 7:00 AM and driving to D.C. and the results can be found here.
The city with the shortest commute is Arlington, which is just 5 miles away from our nation's capital and a commute time ranging from 10 to 24 minutes. Next comes Alexandria with the average commute time ranging from 12 to 24 minutes, followed closely by Silver Springs, with an average commute time of 14 to 28 minutes.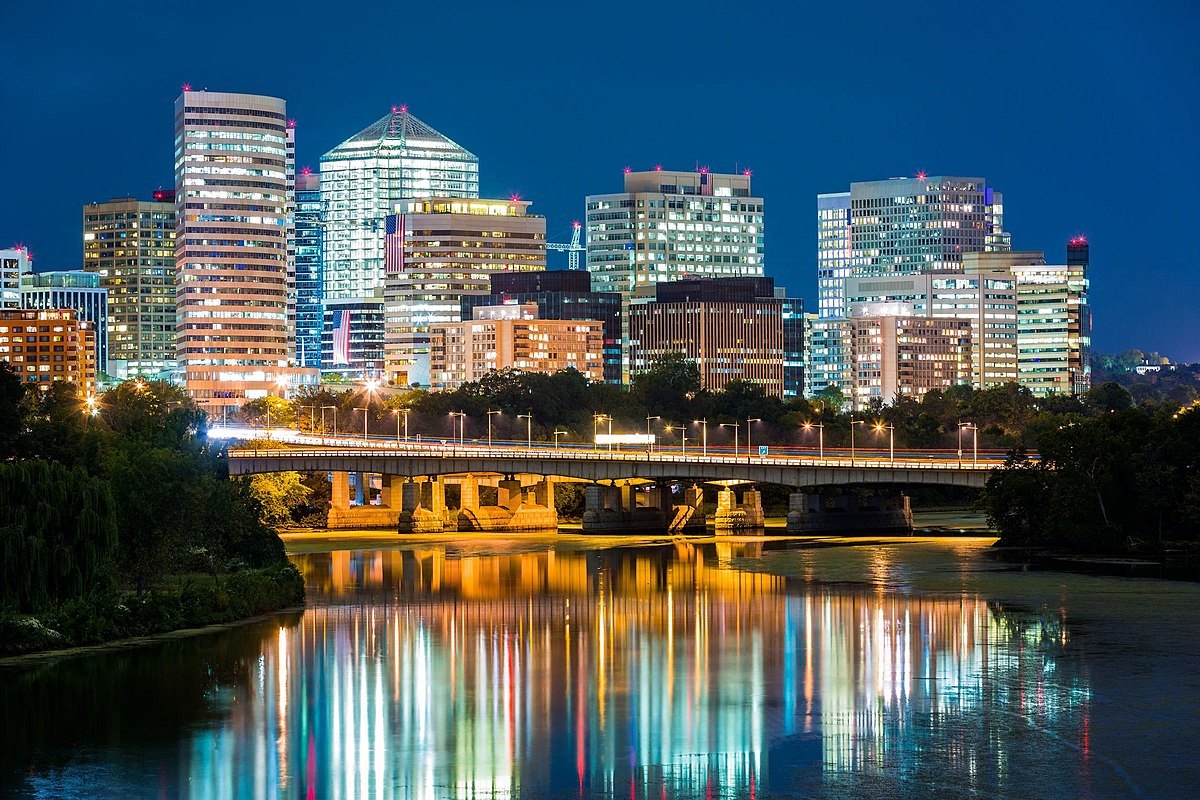 Photo courtesy of ERM1130 - Photo of Arlington at night, from Washington D.C.
Most Affordable Cities Close to DC
https://www.bestplaces.net/cost-of-living/
Most people commute to DC to save on rent. With a cost of living 52% higher than the national average, it's no wonder people look elsewhere for housing.
While Washington DC is not the cheapest place to live, it's not the most expensive in that region either. The most expensive nearby city is McLean, Virginia, with a cost of living 103% higher than the national average. McLean has a median home cost of $926,900.
Cities with the lowest cost of living near DC are located in Maryland: Greenbelt, Frederick, and Waldorf, however these aren't the safest cities.
Our top recommendations for the lowest cost of living with a decent commute time and lower crime rate are Woodbridge, Virginia and Burtonsville, Maryland.
100 = US Average. (Below 100 means cheaper than the US average. Above 100 means more expensive.)
Safest Cities Close to DC
The safest city close to Washington DC is Potomac. The city is safer than 84% of all U.S. cities. However, the cost of living is 93% higher than the national average. Ashburn comes in at a close second. It's safer than 74% off all U.S. cities, but the commute is 40 to 55 minutes and the cost of living is 51% higher than the national average.
What you really need to look at is the safer neighborhoods within each city. For example, take a look at Silver Spring, Maryland. Neighborhood Scout does a great job at breaking down the crime rates in each suburb of each city. We'd recommend looking at cost of living and commute time first and then narrowing down on safer suburbs of the city you chose to live in.
Overall Winners
We decided to narrow it down first by commute time and then cost of living. Silver Spring comes out as one of the top choices, with the average commute ranging from 14 to 28 minutes and a cost of living index of 132.4.
Hyattsville, Maryland is also a great choice with an average commute time between 16 and 35 minutes, and a cost of living index of 129.5.
If you are looking for a place near Silver Spring, MD, we've got an apartment complex, not far from downtown Silver Spring. Escape the noise of downtown and get more square footage and amenities for the buck at Spring Parc.
Here are the numbers in one convenient Google Sheet. We invite you to grab these numbers and start your search here.
View and download the spreadsheet here.
Alexandria, Virginia
Alexandria is conveniently located just south of Washington, DC on the banks of the Potomac River. It's known for its rich colonial history. This was George Washington's hometown and many of the Founding fathers dined at Gadsby's Tavern and attended Christ Church.
Alexandria offers easy access to the DC via public transportation and highways — this convenience, combined with the city's charm and beauty, have helped drive a wave of new residents to this historic city. Learn more about what it's like to live in Alexandria - https://kerishull.com/living-in-alexandria-va/
Alexandria also has a well-established network of biking trails and walk paths that make it easy to enjoy the cherry blossoms in the spring and Old Town at night.
Alexandria also marks the halfway point on the Mount Vernon Trail, the 18-mile path between Washington, D.C., and George Washington's famed estate. https://www.visitalexandriava.com/things-to-do/outdoor-activities-and-wellness/biking/
Things to do in Alexandria
https://www.visittheusa.com/destination/alexandria
Old Town dates back to 1749 and is lined with well-preserved 18th- and 19th-century buildings. Today Alexandria hums with more than 200 independent boutiques and award-winning restaurants, along with historic site museums.
Enjoy a leisure stroll along King Street or take the King Street Trolley to see the sights. See Alexandria's scenic waterfront for dockside dining and cruises along the Potomac River, or spend a little time sitting in historic Christ Church, a colonial-era structure once attended by Washington and dozens of other American presidents. Visit the Carlyle House Historic Park, a restored Georgian mansion with a garden.
Learn even more about one of the country's Founding Fathers at the spectacular George Washington Masonic Memorial museum, or bike to George Washington's Mount Vernon to tour the stately mansion and gardens.
Alexandria brims with delicious eateries, charming shops and historic museums, perfect for an evening getaway or a weekend excursion.
Arlington, Virginia
Arlington is even closer than Alexandria, only three miles away from DC, across the Arlington Memorial Bridge. Here you will find several metro stations that connect to DC. It's even close enough that one could easily commute by bike.
Arlington is home to the Arlington Cemetery, the Pentagon and Amazon's new headquarters.
Things to do in Arlington
Walk around Theodore Roosevelt Island, or take a tour of the Pentagon or visit the many monuments dedicated to veterans at the Arlington Cemetery. The signature Theater in Arlington is known for its classical plays and musicals and the Synetic Theater is an award-winning physical theater, where stories are told through motion instead of words.